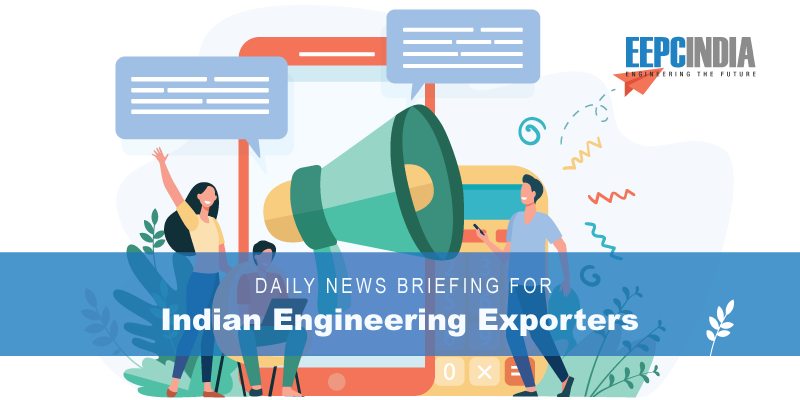 Friday, 23-Sep-2022

Rupee hits new low vs dollar on hawkish Fed
Business Standard
23-Sep-2022
As the Reserve ( Fed) Wednesday not only interest rates but signalled a longer monetary tightening cycle
---
Surge in import cost may negate positive impact of INR fall: Experts
Business Standard
23-Sep-2022
The rupee dropping to a record low against the dollar may be a mixed bag
---
Depreciating INR not likely to cause fiscal slippage Petroleum, fertiliser imports to become expensive, subsidy bill set to rise
Business Standard
23-Sep-2022
Centre´s expenditure budget may exceed by ₹ 2.7 trillion in FY23
---
India Inc braces for impact, rushes to take forward cover
Business Standard
23-Sep-2022
Homegrown companies are preparing for life after the rupee fell to INR 80 versus the US greenback.
---
Navy buys enhanced BrahMos missiles
Business Standard
23-Sep-2022
Providing impetus to "Aatmanirbharta" ( selfreliance) in defence productio
---
Investments taking shape before summit
Business Standard
23-Sep-2022
About 3,000 delegates from diverse industries are likely to participate
---
Yen breaches 144 mark vs USD, Japan central bank steps in
Business Standard
23-Sep-2022
Intervention is a 1st since 1998, helped stem 20% decline in the currency
---
Powell´s message: Inflation fight may cause recession
Business Standard
23-Sep-2022
The Federal Reserve delivered its bluntest reckoning on Wednesday
---
Exide Industries to invest Rs6,000 cr in Lithium- ion cell unit Karnataka
The Hindu Business Line
23-Sep-2022
Automotive and industrial battery maker, Exide Industries, is looking to invest around ₹6,000 crore to set up a 12 gigawatt-hour lithium-ion cell manufacturing unit in Karnataka over the next 8–10 years. The first phase of the plant (6 gigawatt-hour), which is expected to be completed in the next 27–30 months, is likely to entail an investment of around ₹4000 crore.
---
JSW Steel seeks review of Rs2,678-cr GST claim
The Hindu Business Line
23-Sep-2022
JSW Steel has moved the Appellate authority within GST department of Odisha against the demand notice of ₹2,678 crore towards tax, penalty and interest on JSW mining company in the State. The company had started mining operation at Nuagoan, Jajang, Koira and Ganua mines, for which lease was granted by the State government, by paying applicable bid premium, royalty and other statutory fees in addition to ₹1,510 crore towards GST on Reverse Charge Mechanism basis.
---
Australian companies eye greater business opportunities in India
The Hindu Business Line
23-Sep-2022
With the India-Australia Free Trade Agreement (FTA) close to being implemented, a 100-member business delegation, led by the Australian Trade and Investment Commission (Austrade), will visit India later this month to scout for fresh opportunities across sectors such as agriculture, food and wine, critical minerals, digital health and infrastructure.
---
Salcomp to make EV chargers for India
Financial Express
23-Sep-2022
Positioning itself to become a significant player in India, Finland-based Salcomp, the largest contract manufacturer of chargers and adaptors for smartphones, including iPhones, on Thursday announced that it will make chargers for electric two-wheeler and three-wheelers. Though the company had earlier shipped some volume of chargers for four-wheelers from its Chennai plant to the US market, this is the first time it has decided to take a serious plunge into making chargers for Indian market. It will also look at servicing the global markets at a later stage.
---
Ola Electric announces international expansion plans
The Hindu Business Line
23-Sep-2022
Ola Electric, has announced plans to enter international markets, starting with Nepal. Following this, the company plans to enter Latin America, ASEAN and the EU in the next phase, increasing the company's presence in up to five international markets.
---
EV push: Mahindra may raise $500 m
Financial Express
23-Sep-2022
Mahindra & Mahindra is in talks with global investors to raise between $250 million and $500 million to accelerate its plans to build electric vehicles (EVs), a source with direct knowledge of the matter told Reuters.Mahindra is in early talks with global green funds and private equity firms, the person said, adding that it wants a long-term investor who can help build out its EV business.
---
Industry has to keep eye on new non-tariff barriers: DPIIT secy
Financial Express
23-Sep-2022
The western world is broadening the ambit of its non-tariff barriers (NTBs) and Indian industry has to continuously prepare itself for any such scenario, a senior government official said on Thursday. Anurag Jain, secretary at the department for the promotion of industry and internal trade (DPIIT), said, earlier some nations used to talk about stringent labour laws and sustainability; but now, they not just seem to be talking about issues like human rights but they want to link them to business and trade.
---
Govt seems on track to meet FY23 monetisation target
Financial Express
23-Sep-2022
Despite a likely slippage in key sectors like railways and telecom, the Centre is likely to achieve the asset monetisation target of Rs 1.62 trillion for the current financial year, as the mining sector, which is witnessing a flurry of new private-sector projects, is expected to do the heavy lifting, an official source said. The monetisation value from the mining sector consisting of coal and other minerals is expected to be more than Rs 60,000 crore in FY23, as against a target of just Rs 6,060 crore, the source said.
---
Centre to give 50% incentive for semiconductor production
The Hindu Business Line
22-Sep-2022
The Cabinet, on wednesday, approved modifications to the scheme for semoconductors and disply manufacturing ecosystem, with a uniform fiscal support of 50 per cent of the project cost for all technology nodes and setting up of disply fabs.
---
ADB cuts India GDP growth forecast to 7%
The Hindu Business Line
22-Sep-2022
The Asian Development Bank (ADB), on Wednesday, cut India's Gross domestic product (GDP) growth forecast by 50 basis points to 7 per cent for FY 23. In April, the agency had forecast a growth rate of7.5 per cent.
---
Iron ore exports plunge 60% in August
The Hindu Business Line
22-Sep-2022
Iron ore exports dipped 60 per cent year-on-year, to 0.41 million tonnes (mt), in August, data from the Ministry of Commerce and trade sources showed. A combined effect of high export duty and slowing demand in key export markets, primarily China — due to poor demand outlook for steel, property sector crises and Covid-related restriction — continued to impact numbers, sources said.
---
Demand on the rise, but supply remains a challenge: Volvo MD
The Hindu Business Line
22-Sep-2022
In a push towards sustainability, Swedish luxury carmaker Volvo introduced its latest range of mild hybrid petrol cars in Mumbai on Wednesday. The models introduced include SUV XC90 at ₹94,90,000; compact XC40 at ₹45,90,000; sedan S90 at ₹66,90,000; and SUV XC60 at ₹65,90,000. The cars have been designed with maximum power outputs of 197 hp and 300 hp, advanced air cleaner with PM 2.5 sensor, lane keeping aid, collision mitigation support, blind spot information system with cross traffic alert and adaptive cr
---
Banking liquidity slips into deficit after 40 months
The Hindu Business Line
22-Sep-2022
Liquidity in the banking system has swung into deficit mode after remaining in surplus mode for almost 40 months. The change in the liquidity situation has come due to advance tax outflows for the second quarter. This also nudged up call money rate temporarily above the repo rate. The liquidity deficit in the banking system was estimated at ₹23,227 crore on Wednesday against previous day's surplus of ₹ 47,936 crore, per Bloomberg data.
---
Dollar hits 2- decade high as Putin rattles markets before Fed
Financial Express
22-Sep-2022
LONDON (Reuters) - The dollar jumped to a new two-decade high on Wednesday, as comments from Russia's President Vladimir Putin rattled markets ahead of another likely aggressive rate hike from the U.S. Federal Reserve. Putin ordered Russia's first mobilisation since World War Two, warning the West that if it continued what he called its "nuclear blackmail" that Moscow would respond with the might of all its vast arsenal. The news propelled the dollar index, which measures the greenback's value against other major currencies, more than 0.5% higher to 110.87 - its highest level since 2002.
---
Govt sweetens sops for global chip companies
Financial Express
22-Sep-2022
Nine months after announcing a Rs 76,000-crore incentive scheme for development of semiconductors and display manufacturing ecosystem in the country, the Union Cabinet on Wednesday sweetened it further by making the fiscal support of 50% of project cost uniform across all technology nodes for setting up of semiconductor fabs.
---
Foxconn Chief may Call on PM in Nov to Push Semicon Foray
The Economic Times
22-Sep-2022
Chennai:    Foxconn's chairman Young Liu is set to meet Prime Minister Narendra Modi later in November as the Taiwanese major looks to further its ambitious plans for semiconductor manufacturing in the country, two people aware of Liu's India plans told ET. His visit—the second in the last six months—comes even
---
Rs19.5K-cr 2nd tranche of solar PLI gets Centre npd
Business Standard
22-Sep-2022
The Union Cabinet on Wednesday approved the Rs 19,500-crore proposal of the Ministry of New and Renewable Energy (MNRE) for the second tranche of the 'production-linked incentive' (PLI) scheme for solar equipment manufacturing. This is part of 'National programme on High Efficiency Solar PV Modules' for achieving manufacturing capacity of giga watt (Gw) scale in high efficiency solar photovoltaic (PV) modules. The Cabinet in a statement said it is estimated that close to 65 Gw of annual manufacturing capacity of fully and partially integrated solar PV modules would be installed through this scheme.
---
Cabinet approves modifications in programme for development of semiconductors
The Statesman
22-Sep-2022
The Union Cabinet chaired by Prime Minster Narendra Modi, today approved 50 per cent financial incentives for manufacturing of semiconductor fabs across technology nodes as well as for compound semiconductors, packaging, and other chip facilities.
---
Union Cabinet approves national logistics policy
The Statesman
22-Sep-2022
The Union Cabinet, chaired by Prime Minister Narendra Modi, today approved the National Logistics policy which lays down an overareching interdiseiplinary, cross sectoral multi jurisdictional, and comprehensive policy framework for the logistics sector.
---
Global Investors Meet: K'taka invites companies in the US to invest
The Statesman
22-Sep-2022
The Karnataka degegation led by Minister for Large and Medium Industries Dr Murugesh R. Nirani visited the United States to attract investments and extended a formal invitation to participate in the upcoming Global Investors Meet scheduled on november 2.3 and 4 in Bengaluru in Karnataka.
---
Now, more security features for automobiles
The Statesman
22-Sep-2022
After cyrus Mistry, a former chairman of Tata Sons, was killed in a car accident on the Mumbai- Ahmedabad national highway. the central government decided to and more security features to automobiles. The features including one in which alarm will sound while parking, driving too fast, and when the back seat belt in not fastened.
---