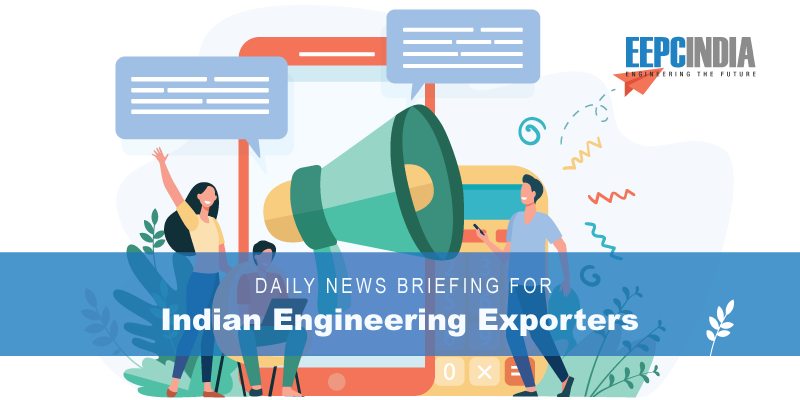 Thursday, 18-Aug-2022

Expert groups to explore common charger adoption
Business Standard
18-Aug-2022
Officials for first shifting to two types of charging ports
---
India home to 18 of 20 cities with severe rise in PM2.5: Study
Business Standard
18-Aug-2022
According to a comprehensive and detailed analysis of air pollution and global health effects for over 7,000 cities
---
Economists at odds with MPC over GDP forecast
Business Standard
18-Aug-2022
Most economists believe that India's economy grew at a slower pace than the monetary policy committees (MPC's) projection of 16.2 per cent
---
At $4.3 billion, Russia imports up 7x in June
Business Standard
18-Aug-2022
Up 6.8 times as compared to last year,
---
Bond yields crash on global index inclusion buzz, oil dip
Business Standard
18-Aug-2022
Rupee strengthens on fall in crude, but gives up gains before US Fed minutes
---
Rupee rises 29p on risk rally, spurred by dollar inflows
Financial Express
18-Aug-2022
THE RUPEE GAINED 29 paise on wednesday marking its biggest single-day rise in more than a week, spurred by dollar inflows, as improved risk appetite drove a rally in equities while the greenback posted losses. government bond yields declined, with the 10- year notes posting their biggest single- day drop in two months in line with the slump in crude oil prices.
---
EU to flag India's 'unfair buy national' practice in FTA talk
Financial Express
18-Aug-2022
THE EU WANTS India to stop what it calls 'discriminatory 'buy national' pratices' including some relating to the Make in india and Atmanirbhar Bharat initiatives. a text endorsed by EU parliament last month claimed that the 'buy national'
---
Sensex reclaims 60,000 with FPIs back to buying
The Hindu Business Line
18-Aug-2022
Purchases made by foreign portfolio investors (FPIs) in India's equity markets, worth nearly $3.5 billion in July and August, have led to a near 18 per cent jump in the Sensex and Nifty from the low levels hit earlier this year. On Wednesday, the Sensex climbed to the 60,000-mark. It ended the day's session up 0.7 per cent (417 points) at 60,260. The Nifty, too, rose 0.67 per cent (119 points) to close at 17,944.
---
Semiconductor industry needs to focus on manufacturing side: ASM Tech MD
The Hindu Business Line
18-Aug-2022
The Indian semiconductor industry has a designing ecosystem, but lacks the manufacturing side of it, says Rabindra Srikantan, Managing Director, ASM Technologies. "The semiconductor industry is gaining momentum — with investments, attention, incentives, and government support—creating the largest opportunity for the country. All of this will help India catch up with the rest of the world," Srikantan told BusinessLine.
---