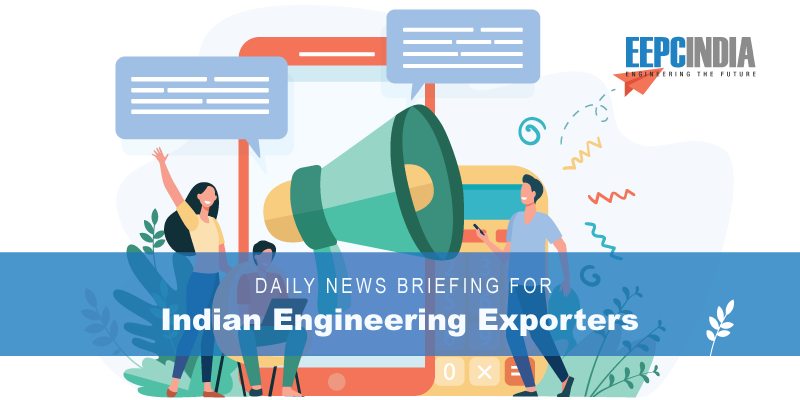 Wednesday, 17-Aug-2022

Adanis to step up aluminium play, may go for production
Business Standard
17-Aug-2022
Adani Group's plans in the base metals space may be bigger than just setting up a mega alumina refinery
---
Common charger for all mobile devices on cards
Business Standard
17-Aug-2022
Officials from the department of consumer affairs to evaluate the possibility of a common charger for all mobile devices, including smartphones, tablets and wearable devices.
---
Taiwan makes 75% of all chips used for Indian mobile market
Business Standard
17-Aug-2022
According to estimates by the Indian Cellular and Electronics Association (ICEA),
---
Wholesale inflation at five-month low in July
Business Standard
17-Aug-2022
India's wholesale inflation in July eased to a five-month low of 13.93 per cent
---
Huge opportunity for business in India's fintech space: UKIBC
Business Standard
17-Aug-2022
The UK India Business Council sees opportunities for trade, investment, and collaboration with India across financial technology (fintech), food and beverage, electric vehicle (EV),
---
RECOVERY TRACKER Flights and vehicle registrations soar
Business Standard
17-Aug-2022
Indians narrowed the gap over pre-pandemic vehicle registrations
---
Banks now in better position to manage interest rate risks
Business Standard
17-Aug-2022
For Indian banks, one of the most challenging aspects of a monetary tightening cycle is navigating the high degree of interest rate
---
Castrol readies alternative plans to counter EV disruptions
The Hindu Business Line
17-Aug-2022
Mumbai, August16 Castrol India has devised a business strategy to counter market disruption expected bu the rapid electrification of the automotive sector where demand for lubes will become nearly extinct.
---
Rupee fluctuates within a range
The Hindu Business Line
17-Aug-2022
Gaining by 14 paise, the rupee (INR) was trading at 79.39 against the dollar (USD) in the offshore market on Tuesday. Thus, it remains within the range of ₹79–79.80 within which we expect the INR to stay in the coming week too.
---
Dipping coal prices may strengthen SAIL's profitability
The Hindu Business Line
17-Aug-2022
SAIL improved profitability from Q2FY23 on, owing to a correction in imported coking coal prices and an anticipated post-monsoon pick-up in domestic demand. According to Anil Kumar Tulsiani, Director (Finance), SAIL, compared to flat products,
---
China Curbs Hit Production of Lab- grown diamonds in India
The Economic Times
17-Aug-2022
 Kolkata: A Lockdowns in China has affected the  production of lab-grown diamonds in India, as the supply of the main raw material, graphite, has come to a grinding halt. China is the only supplier in the world for the kind of graphite that is transitioned to diamonds in the lab under high pressure and high
---
Panel wants strict beneficiation norms for miners
Financial Express
17-Aug-2022
An iron ore miner will have to upgrade through beneficiation 80% of the low-grade ore produced in a mine annually or face penalty including termination of the lease, if the mines ministry accepts recommendations of an inter-departmental committee.
---
Auto stocks soar; NSE at 4- month high
Financial Express
17-Aug-2022
SHARES ENDED HIGHER on Tuesday, boosted by auto stocks, with the NSE Nifty 50 index posting its highest level since April 5 at close. The index gained 0.7% to end at 17,825.25 points.
---
Ola's 500-km range claim too good to be true, say analysts
Financial Express
17-Aug-2022
Ola Electric has announced its plans to foray into the electric car segment and will launch its first model by 2024. It also set a target of selling 1 million electric cars by 2026-27. Ola founder and CEO Bhavish Aggarwal has claimed the range of its electric car will be more than 500 km, and it will accelerate from 0-100 km/hour in just four seconds.
---
Stakes rise for Odisha bauxite on Adani entry
Business Standard
17-Aug-2022
The next auction for bauxite blocks in Odisha may see greater interest with Adani Group charting an entry into alumina refining and existing players looking to boost capacity. Hemant Sharma, principal secretary.
---