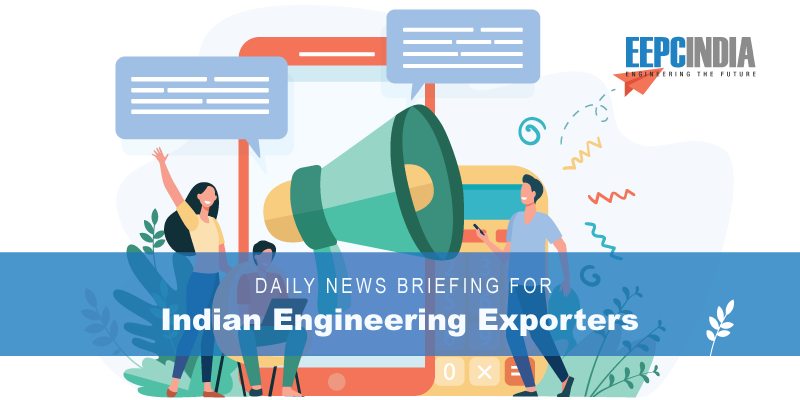 Tuesday, 16-Aug-2022

Modi sets road map for developed India by '47
Business Standard
16-Aug-2022
He set a "Panchpran (five resolves)" target to make India a developed nation in 25 years.
---
Ola Electric unveils one of India's 'fastest' cars
Business Standard
16-Aug-2022
Ola who disrupted the electric scooters market in the country, is planning to launch an electric sports car in 2024.
---
A developed country by 2047: Here's what it will take
Business Standard
16-Aug-2022
Indian policymakers have a new clarion call. Prime Minister Narendra Modi, in his Independence Day speech, pledged to turn India into a developed economy in the next 25 years
---
Atmanirbhar push: PM for innovation in defence products
Business Standard
16-Aug-2022
India can make for the world," the PM commended the military for taking Atmanirbhar Bharat
---
Steel exports decline in July again on export duty levy, global slowdown in demand
The Hindu Business Line
15-Aug-2022
A combined impact of duty levy, seasonal weakness in demand and global slowdown in the commodity cycle saw finished steel exports from the country dip by 75 per cent year-on-year (y-o-y) in July. This is the fourth straight month of fall for Indian mills. Just 1,56,000 tonnes were exported last month.
---
'Green' lighting MSME recovery
Financial Express
15-Aug-2022
SMALL BUSINESS ARE the backbone of India's economy: it has more than 63 million micro, small and medium enterprises (MSMEs) the second- largest number in the world after China. MSMEs employ 110 million workers, generate more than a quarter of the GDP,
---
Eye on FTAs, Centre turns to GSTN for services trade data
Business Standard
15-Aug-2022
The department of commerce is working with the Goods and Services Tax Network (GSTN) to explore ways to compile sector-wise data on services
---
Hurt by export duty hike, KIOCL looks at alternative sources for revenue generation
The Hindu Business Line
15-Aug-2022
State-owned KIOCL Limited, formerly known as Kudremukh Iron Ore Company Ltd, in Q1FY23, saw its revenues dip by 66 per cent from ₹1,157.8 crore to ₹385.2 crore and recorded a loss of ₹43.8 crore compared to a profit of ₹193.9 crore in the previous quarter. After the Centre slapped a hefty export duty of 45 per cent on iron ore pellets, it says it is looking at alternate sources of revenue generation and augmentation.
---
EU Wants re- manufactured goods to be treated on a par with new items
The Hindu Business Line
13-Aug-2022
Import of re-manufactured goods, such as cars and electronic items, is likely to emerge a bone of contention between India and the EU in the on-going Free Trade Agreement talks with Brussels insisting that such items be treated at par with new ones. 
---
Market for entry- level vehicles yet to recover: SIAM
The Hindu Business Line
13-Aug-2022
Sales of passenger vehicles (PVs) in the domestic market grew a robust 11.3 per cent in July on the back of some recovery in the economy, latest data by the Society of Indian Automobiles Manufacturers (SIAM) on Friday showed.
---
Hero Moto Corp net up 71% on higher sales
Business Standard
13-Aug-2022
Hero MotoCorp reported a year-on-year (YoY) increase of 71 per cent in net profit during the April-June quarter on higher sales of motorcycles and scooters as well as last year's low base. Volumes in the first quarter of FY22 were impacted due to the second wave of Covid.
---
Cooling food prices pull inflation down to five month low
Business Standard
13-Aug-2022
India´s headline retail inflation for July came in at its lowest in five months, helped by easing global commodity prices and lower food prices domestically.
---
'Get ready for 5G smartphones in ₹ 10,000 range next year'
Business Standard
13-Aug-2022
By the end of 2022, we expect the installed base of 5G smartphones in India to reach 80-85 million
---
Led by PVs, auto sales rise 10% year-on-year: Siam
Business Standard
13-Aug-2022
Automobile despatches to the domestic market in July and comprising all categories increased 10 per cent year-on-year,
---
Trade deficit hits record $30 bn as exports struggle
Business Standard
13-Aug-2022
As exports grew at a much slower pace compared to imports,
---